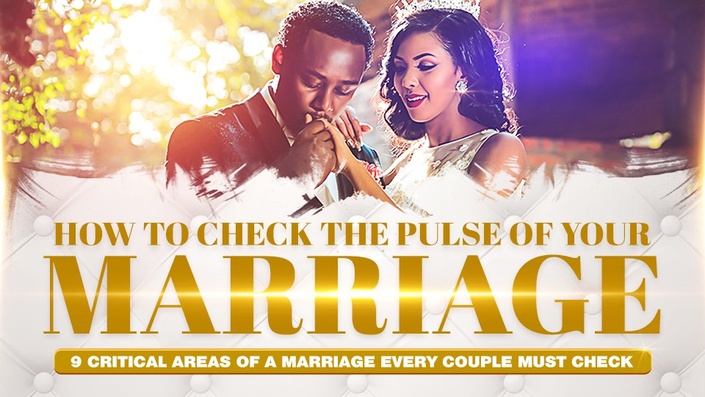 How To Check The Pulse Of Your Marriage
9 CRITICAL AREAS OF A MARRIAGE EVERY COUPLE MUST CHECK TO BE SUCCESSFUL
What you'll learn…
✔️ Build a stronger relationship with God
✔️ Learn how to love yourself.
✔️ Relationship/Friendship with your spouse
✔️ Maturity, character and integrity in the relationship
✔️ The importance of trust in a marriage
✔️ Why you need to get your finances right
✔️ Know how to build a stronger and more vibrant marriage.
✔️ Dealing with conflict in marriage
✔️ 30 Days Argument Free Marriage Challenge
✔️ How to improve your sex life
✔️ Why your health is important to your marriage
✔️ Q&A Video Session. In this session, we answered some of your most personal questions about marriage and sex (Hot Topics)
✔️And much more….
WHO THIS COURSE IS FOR..
If you are not serious about doing the work to build your marriage don't bother to waste your money.

If you are serious about building and strengthening the Foundation and Core areas of your marriage, then this course is for you.

If you are ready to lead by example and be the influencer in your marriage, this course will help you.

If you are engaged to be married this is an excellent course for you. Consider it as a Pre-marital Counseling Session.

Anyone w

ho wants to know how to build a lasting marriage and relationships.
Description
Have you ever felt frustrated in your marriage? Have you tried doing everything you possibly can to make your marriage better, but you are not seeing the results? Do you find yourself wonder if things will ever change? If the answer is yes to at least one of these questions, you are not alone, we have been there too. What we didn't do, was quit on our marriage. We did the work to build the marriage we wanted. Twenty-six years later we are closer and happier than we have ever been in our marriage. With Prayer and God's help, we found a way, and we want to share it and help you experience it in your marriage too.
My wife and I created an online course designed to provide YOU with the solutions you need to Build, Rebuild, and Maintain a successful marriage using principles we have personally practiced in; "How To Check The Pulse Of Your Marriage."
Each class focuses on a different aspect of your personal life and marriage, which only YOU have the responsibility and power to change.
If you want to improve your marriage or save it all together, this is the class for you. Start today, by joining us on this journey of Self-discovery, Personal development, and Self-improvement in this course.

WHAT MAKES THIS COURSE DIFFERENT?
First, all of the advice, tools, technique, and strategies we share are PROVEN because we live them. These principles are successfully tested by many couples who found success with them. We only put what works in the course. Please note, even the best advice is useless if you don't know how to apply it. Knowledge is not power the application of knowledge gives you power.

That's why we are your "Take Action" coaches. We don't give you the "what," but the

"how"

behind it.
Unlike other courses we want to make you feel like you are doing a personal one on one session with us. Yes we are speaking directly to you because we are here to help you.

Testimonial
Dauren and Joan have been God sent. When we initially reached out to them, we were on the brink of divorce and had spoken with lawyers. I decided to reach out to them. They sent us an intake form to see what we felt were problem areas in our marriage and we checked off almost every area. Dauren and Joan agreed to work with us. They were quick to let us know that nothing would change in our marriage unless we were willing to do the work and apply the principles.
After working with Dauren and Joan for a while, we realized just how true that statement was. We began to implement the tools and strategies we were given, and over time we have eliminated almost every area in our marriage where there were constant issues. They push us to take action. If you are not serious about your marriage, do not bother to waste their time.
Now that they are offering classes online, we couldn't be more excited. Not just for us, but for couples around the world, who are hurting in their relationships just as we were.

We will be forever grateful for Dauren and Joan.
Thank you both so much!!!

Testimonial
Hi Dauren and Joan,
I want to pause for a moment from doing this course just to say thank you. I started doing the course by myself because I know my husband is not very open to listening to anyone talk about what he need to do in the marriage. However, I followed your advice and invited him to watch the lessons with me as a date night.
I was watching my husband the whole time while praying that he does not get upset from some of the things you were saying husband needed to do in the marriage. I was watching his body language to see if he was defensive. To my surprise, he was in agreement with what you both were teaching. The next day he started to implement some of what we learned. I am excited about finishing the course with him and finally working on our marriage together.
Yours Truly
Jenny
Testimonial
My wife and I was really struggling with our marriage, and this course really helped us with some great information and resources!
-John and Mary
Thank you. I was so happy to learn all the information in this course, and my husband and I immediately put it to good use!
-Deandrea
My wife and I signed up for this course. Dauren and Joan suggested to us to setup a date night at home and start the course. We are so glad we did. The lessons help us a great deal while bonding together.
-Suzette and Tom
Your Instructor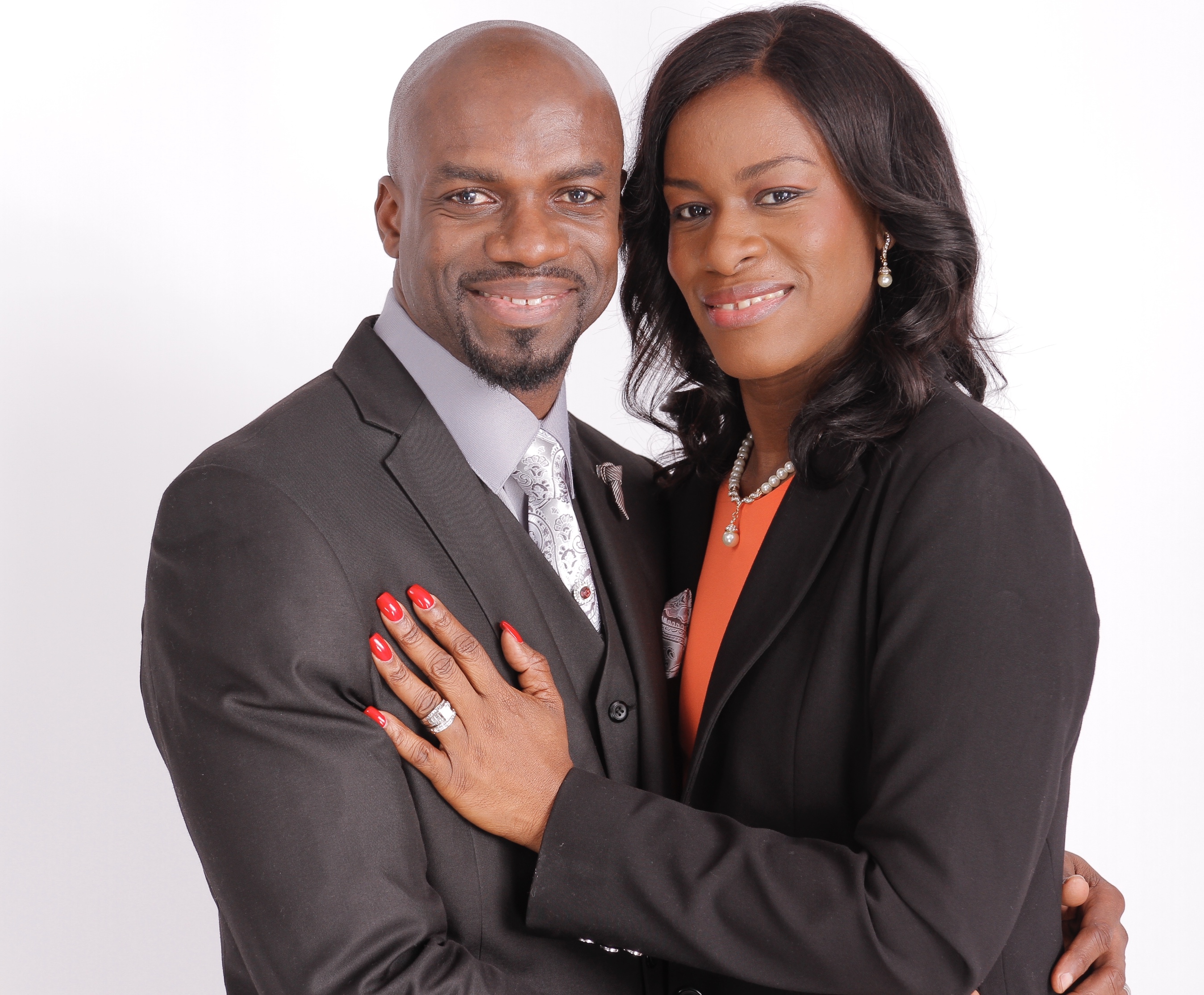 Dauren and Joan are experts in all things relationship. They are your "take action" mentors, leaders and counselors who live what they preach. Married for over 25 years, they leverage their passion for family, marriage and relationship to help other relationships stand the test of time, just like theirs. Thus, they have inspired many couples on both national and international levels through social media, video conferencing, one on one counseling, mentorship, seminars and workshops. Although no marriage is perfect, Dauren and Joan can help you acquire the requisite skills you need to have the happy and healthy relationship you desire.
Living by the motto "marriage is not built in a day marriage is built daily", they emphasize the need for dedication, commitment, sacrifice and hard work, but not without putting God first. Over the years, they have garnered a vast knowledge of what works in a marriage and what doesn't, so they are passionate about sharing their vast knowledge and time-tested approaches with couples all over the world, empowering them with all they need to enjoy their married life. Their goal is to help you fine-tune your marriage so you can enjoy your spouse to the fullest.
Please visit their Website at www.knoteasilybroken.com for more information.
You can follow them on Instagram, Facebook and Twitter @Strongerknot
Course Curriculum
Introduction
Available in days
days after you enroll
Why You Should Check The Pulse Of Your Marriage.
Available in days
days after you enroll
Relationship
Available in days
days after you enroll
Frequently Asked Questions
When does the course start and finish?
The course starts now and never ends! It is a completely self-paced online course - you decide when you start and when you finish.
How long do I have access to the course?
How does lifetime access sound? After enrolling, you have unlimited access to this course for as long as you like - across any and all devices you own.
What format is the course content delivered in?
Good question! The course materials are shared as video content, and as course worksheets and templates. So, whether you prefer to read, write, watch, or listen to the content, you'll be covered.
Could I just find this information for free online?
You can find just about anything online these days, but that does not mean it is actually valuable. Not only are you getting valuable information in this course, but after you finish, our relationship does not end. It is the beginning of a mutual friendship. We are serious about your success, and we are here to HELP YOU. People don't care how much we know until they know how much we care. That is our motto, and we are sticking with it. We care about and your marriage.
What if I am not happy with this course?
Not sure if this course is right for you? Well, we are giving you an entire MONTH to try this course. We are convinced you will learn so much it won't even take you that long to finish it. We are offering this money-back guarantee because we believe so strongly in the contents in this course and we want you to see how game-changing this course can be, risk-free.